Winter Classic 2023: Bruins rally behind Jake DeBrusk's two goals, Pens' last-ditch goal waved off
The Boston Bruins defeated the Pittsburgh Penguins 2-1 on Monday in a thrilling comeback victory to claim the 14th annual Winter Classic in front of a crowd of more than 39,000 fans at a transformed Fenway Park.
Bruins forward Jake DeBrusk tied the game up early in the third period but just 10 minutes later he would score the game winner with assists from Taylor Hall and David Krejci, marking his 16th goal of the season. 
With an empty net and a five-game losing streak on the line, the Penguins won a faceoff with just over 10 seconds left. 
WINTER CLASSIC 2023: PENGUINS' TRISTAN JARRY REPLACED BY CASEY DESMITH AFTER SUFFERING APPARENT INJURY
Veteran forward Evgeni Malkin knocked one into the back of the net but time expired just as he took his shot.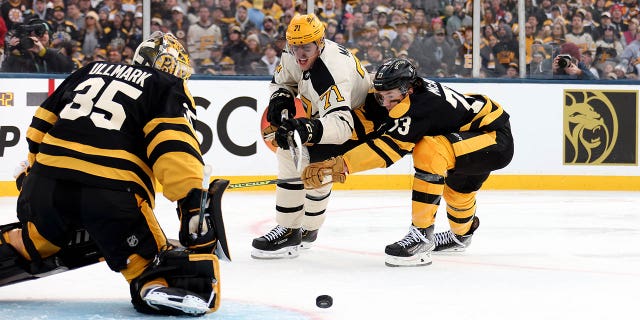 Pittsburgh forward Kasperi Kapanen got the Penguins on the board first at the 8:40 mark, scoring his sixth goal of the season off a pass from Danton Heinen from behind the net. 
CLICK HERE FOR MORE SPORTS COVERAGE ON FOXNEWS.COM
But Linus Ullmark kept the Penguins offense at bay, making 25 saves for Boston.
"There's a fine line between winning and losing. It comes down to subtle details," Pittsburgh coach Mike Sullivan said. "There were momentum swings on both sides in all periods."
Two-time NHL All-Star, Tristan Jarry, left near the end of the third period with an apparent injury. He made eight saves before getting replaced by Casey DeSmith, who finished the day with 19 saves.
The NHL-leading Bruins improved to 19-0-3 and are now 9-0-3 in their last 11 games.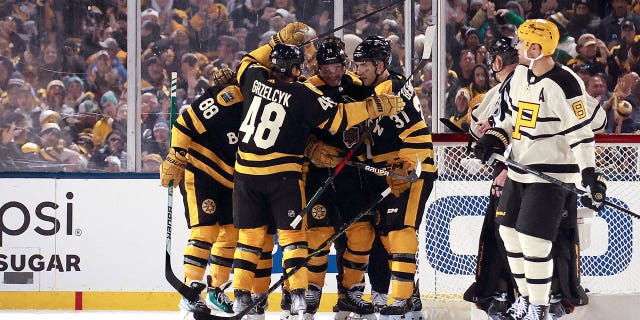 CLICK HERE TO GET THE FOX NEWS APP
Monday marked the Bruins fifth outdoor game and fourth Winter Classic appearance. They previously won in 2010 and most recently in 2019 against the Chicago Blackhawks at Notre Dame Stadium.