US House of Representatives: who's who in the new leadership? | House of Representatives
The balance of power in Washington will shift when Republicans officially take control of the House on 3 January.
Yet House Republicans begin the 118th Congress in a precarious position: their grip on power is fragile and their conference fractured.
After a historically weak performance by the minority party in a midterm election, House Republicans have struggled to unite. Uncertainty hangs over the speakership election, as Kevin McCarthy attempts to quell a conservative revolt that could derail his long-held hopes of claiming the speaker's gavel.
Democrats meanwhile will begin the next Congress with a fresh slate of leaders, after the House speaker, Nancy Pelosi, and her deputies stepped aside to pave the way for a new generation. Now, in a historical first, the triumvirate of top House Democrats includes no white men.
Here's a look at the highest-ranking members of the Republican and Democratic leadership for the 118th Congress.
The Republicans
Congressman Kevin McCarthy of California, Republican nominee for speaker of the House
McCarthy, 57, has been plotting his path to the speakership for the better part of a decade. Whether he will finally win the top job remains unclear.
Elected to Congress in 2006, McCarthy was part of a triumvirate of self-styled Republican "Young Guns" (along with Eric Cantor and Paul Ryan, neither of whom is currently in Congress) who rode the Tea Party wave to power. Republicans' romping success in the 2010 midterms catapulted McCarthy into one of the top leadership positions, House majority whip.
He was considered next in line for the speakership in 2015, but his bid imploded. McCarthy was eventually elected minority leader in 2018, after Democrats won the House.
Once considered a relative moderate, the California congressman has steadily moved to the right. He embraced Donald Trump early and remains one of his staunchest defenders on Capitol Hill. When Trump was defeated in 2020, McCarthy amplified his election lies. After the January 6 attack on the Capitol, McCarthy condemned Trump's actions but quickly retreated and made amends.
Now McCarthy is in the fight of his political life as he again seeks the speakership. He won the party's internal leadership elections, dispatching a challenge from the far right. But the real test will come on the House floor, where he will need the support of nearly every member of his caucus to become speaker.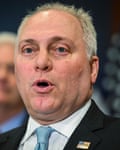 Congressman Steve Scalise of Louisiana, majority leader
Scalise, 57, is a Louisiana native who was elected to the No 2 spot by voice vote, a sign of his broad support in the House Republican conference. Should McCarthy fall short in his quest to become speaker, Scalise has been mentioned as a potential alternative.
In 2017, Scalise was critically wounded when a gunman opened fire during a congressional baseball practice. He spent weeks in the hospital and required intensive rehabilitation. A staunch defender of the second amendment, Scalise said the experience only reinforced his support for gun rights.
A special election in 2008 brought Scalise to Washington, where he rose quickly through the Republican ranks. In 2012, he was elected chairman of the influential Republican study group, beating a candidate who had been handpicked by the group's founders. After that surprise victory, Scalise told reporters on Capitol Hill that his goal was to pull Republican leadership "as far to the right" as possible.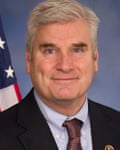 Congressman Tom Emmer of Minnesota, majority whip
In 2020, as Democrats celebrated Joe Biden's victory, Republicans made an unexpectedly strong showing in the House. Emmer, in his role as chairman of the National Republican Congressional Committee, was widely praised for his party's performance.
Just two years later, Emmer, in the same role, faced blowback after Republicans only narrowly won the House, making far fewer gains than anticipated. In the wake of the disappointing results, he faced stiff competition in his bid to become the majority whip though he ultimately prevailed on the second ballot.
Emmer, 61, a former attorney and the father of seven, began his career in the Minnesota legislature. He narrowly lost a bid to become governor of Minnesota in one of the closest elections in state history. Four years later, he was first elected to Congress, winning the seat vacated by the conservative firebrand Michele Bachmann.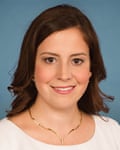 Congresswoman Elise Stefanik of New York, Republican conference chair
Few politicians exemplify Trump's grip on the Republican party better than the New York Republican.
Once a mainstream conservative from a moderate district, Stefanik transformed into one of Trump's most loyal supporters, embracing his election lies, flirting with the QAnon conspiracy theory and amplifying ads that echoed themes of the racist "great replacement" theory.
Stefanik claimed the No 3 leadership post last year, after the conference ousted Congresswoman Liz Cheney of Wyoming over her vocal criticism of Trump in the wake of the Capitol attack. Despite speculation that Stefanik would run for majority whip if Republicans won the House in the 2022 midterms, she opted instead to keep her position, tasked with amplifying the party's message.
When Trump announced his intention to run again for the White House in 2024, Stefanik was one of only a handful of prominent Republicans to endorse him, a move that rankled those in her party wary of his attempts at a political comeback.
The Democrats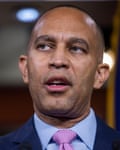 Congressman Hakeem Jeffries of New York, minority leader
With his unanimous election as Democratic leader, Jeffries, 52, becomes the first Black American to helm a major political party in congressional history. He inherits the job from Nancy Pelosi, the Democrats' long-serving leader. Yet he begins his tenure in the minority, after Democrats lost control of the chamber in the November midterms despite a stronger than expected performance.
The Brooklyn-born son of public sector workers, Jeffries speaks with pride about growing up in a working-class outer-borough neighborhood. After law school, he worked as a corporate attorney, representing clients such as Viacom and CBS.
His first foray into politics was unsuccessful. But he was soon elected to the New York state assembly, where he served for six years before running for Congress in 2012. He won the Brooklyn and Queens-based seat, parts of which were once represented by Shirley Chisholm, the first Black woman elected to Congress.
His ascent to Democratic leader was long planned and came with the explicit backing of his predecessor. Now, as the new fresh face of House Democrats, Jeffries has vowed to bring his fractious caucus together with the goal of clawing back control of the chamber in two years. In remarks after his election, he said he hoped to work with Republicans, but would not remain silent if they continued to embrace extremism.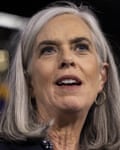 Congresswoman Katherine Clark of Massachusetts, minority whip
Elected by acclamation, Clark will become the highest-ranking woman in House Democratic politics. As the party's top vote-counter, her main task for the next two years will probably be to keep Democrats aligned in opposition to Republican-backed legislation, rather than whipping them in favor of bills.
Clark, 59, began her political career as a member of a local public school committee, before rising through the ranks in the Massachusetts state legislature. She was elected to Congress in 2013, where she has been a vocal advocate for women's reproductive rights and other policies affecting women and children.
For years, Clark and Jeffries worked in partnership, cementing their status as heirs apparent for the moment when Pelosi and her deputies stepped down. She is well-liked among the many caucuses and coalitions within her party and her colleagues have praised her as someone who always keeps in touch, a trait that will serve her well as Democratic whip.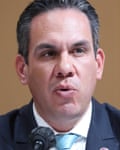 Congressman Pete Aguilar of California, Democratic caucus chair
With his rise to the No 3 spot, Aguilar, 43, is now the highest-ranking Latino in Congress and a member of a historic Democratic leadership team that includes no white men for the first time in history.
Raised in a working-class family in San Bernardino, Aguilar served as mayor of Redlands, a city in southern California. He lost his first bid for Congress in 2012, but tried again two years later and won.
Since then, Aguilar has risen steadily in House Democratic politics. He was named to the House select committee investigating the January 6 attack on the Capitol and led the panel's high-profile third hearing, which focused on Trump's efforts to pressure his vice-president, Mike Pence, to overturn the results of the 2020 election.
Known among his colleagues as someone who can build alliances across factions and party lines, Aguilar is now responsible for Democratic messaging.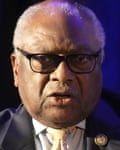 Congressman Jim Clyburn of South Carolina, assistant Democratic leader
Before Jeffries' elevation, Clyburn was the highest-ranking Black man in Congress. After serving as the Democratic whip alongside Speaker Pelosi and the majority leader, Steny Hoyer, Clyburn, 82, decided to remain in leadership even as they stepped aside, though at a lower rank.
He briefly faced the possibility of a younger challenger, but was ultimately elected unanimously by the caucus.
Born in the Jim Crow south, Clyburn was a civil rights activist before entering politics. Elected to Congress in 1992, he quickly became a leading voice within the caucus, gaining prominence as the chair of the Congressional Black Caucus before joining the Democratic leadership team. Often operating behind the scenes, Clyburn is known for mediating disputes within his caucus and using his clout to advocate for Black leadership.
Hailed as a kingmaker in South Carolina politics, his influence is widely felt. Clyburn helped power Barack Obama to victory in 2008 and is credited with rescuing Biden's foundering presidential campaign in 2020 when he offered his endorsement ahead of the state's primary.