Texas Waffle House former employee gives her side of brawl that went viral
A former Austin, Texas Waffle House employee who shot to fame on the internet after grabbing a chair in mid-flight that was chucked at her, turned to social media this week to give her side, saying she has been blacklisted by the chain.
Last week, "Waffle House" was trending on Twitter after a video of the employee catching and slapping down a chair during a brawl at one of the chain's restaurants.
The over two-minute-long video shows the lead-up and fight between multiple Waffle House customers and employees.
TWITTER ERUPTS OVER VIRAL VIDEO OF WAFFLE HOUSE EMPLOYEE DEFLECTING A THRWN CHAIR: 'A NEW SUPERHERO'
The video shows customers climbing over the bar and entering the kitchen area, fists flying, sugar shakers smashing, and one Waffle House employee with what may be the quickest reflexes ever witnessed by a waffle pressing, pancake-tossing, egg-flipping "Rock Star."
The employee, identified as Halie "B" in a self-made YouTube video, gave her side of what went on that night at the bright yellow building.
In the video, which is over 20 minutes long, Halie said six people walked in on a busy night and sat in a section of the restaurant that was closed off. After being told that the section was closed off, the customers continued to sit there and started demanding service, she explained.
WARNING: VIDEOS BELOW CONTAIN PROFANITY
Halie claimed to have work at Waffle House for four years, off and on, and earned a "Rock Star" shirt, which goes to the highest cook level achieved. But also, as a Rock Star, the cooks serve tables and can run the store.
TWITTER ERUPTS IN DEBATE OVER WHETHER WESTERN FILM 'BLAZING SADDLES' WOULD SURVIVE 'WOKE' CULTURE
Halie said the girls started "hollering" and demanded employees take their orders, and after a while, she told the customers they could leave.
But they chose not to leave, she explained, and instead demanded that she, "the White girl," cook their food.
As the demands continued, the tensions grew with one girl wearing leopard patterned clothing throwing silverware, kicking plates, and kicking food, Halie said.
"That's money," she said.
TWITTER USERS PUSH TO BOYCOTT TESLA AFTER ELON MUSK TWEETS HIS PRONOUNS ARE 'PROSECUTE/FAUCI'
Halie then said she grabbed a sugar shaker and chucked it at the woman.
"That's how night shift works, and it's sad," she said. "It's not safe at night, so we have to do what we can."
After throwing the sugar shaker, the customer climbed onto the counter and fell onto the other side. She was then removed from the cooking area, at which point she grabbed a chair and threw it at Halie.
"I had caught it…and it bounced off my wrist," she said.
Once the restaurant was cleared, the staff locked the doors and began the cleanup process.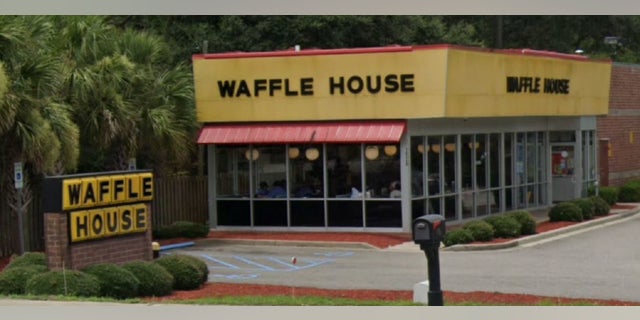 The next day, Halie said, the boss came in to watch the security footage and wrote her up for throwing a sugar shaker, but that was it.
ALABAMA 'FRIENDSGIVING' DINERS TIP WAFFLE HOUSE WAITRESS $1,125: 'NORMALIZE BEING KIND'
Two months after the incident, Halie said, she decided to leave Waffle House and when she tried to get a job at another store, she was told she had been blacklisted.
"I was blacklisted," she said. "I can't ever work for Waffle House again. I tried working for another sometime earlier this year, and they found out I was blacklisted."
And that was despite the original store telling her she could come back any time, according to Halie.
After the video made the rounds, Halie started a new Twitter page called, "The Real WWendy," or Waffle House Wendy, under the user @WitchDragon5.
CLICK HERE TO GET THE FOX NEWS APP
A GoFundMe page was also setup just two days ago, with a goal of raising $5,000 for Halie. As of Monday, the page had raised nearly $5,500 for her to use "however she wants."
At the end of her video, Halie said she has not eaten Waffle House in about eight months, and that was about to change. But she recapped how the events unfolded that night at the restaurant, in a quite straightforward way.
"It's not a lot," she said. "They were being rude, belligerent. I finished what I started. That's really it."