Many factors could have played a part in Sea World accident, expert says
Investigators say it's "extremely fortunate" more people weren't killed in the devastating chopper collision that saw four people die on the
Gold Coast
yesterday.
The tragic accident happened when two aircraft, both operated by Sea World Helicopters, collided at about 2pm AEST.
One of the helicopters, carrying seven people, plunged to the ground while the second, carrying six people, managed somehow to land.
Australian Transport Safety Bureau (ATSB) responders retrieved the wreckage of the aircraft this morning and it was being moved to a secure facility this afternoon for detailed investigation.
Police Commissioner Katarina Carroll warned the investigation could take days or even weeks.
"They (the ATSB) will look at every aspect, of distraction, what was happening in the cockpit, what the surroundings were, how optimal the flying conditions were," Carroll said.
"Every aspect of this needs to be looked at and that will all take time.
"Even when you get CCTV footage, there's many angles that will be looked at.
"No doubt, you know, there may be even passengers that would have had their own video footage.
"So this will be a meticulous and comprehensive investigation but they do take time."
She said any potential criminal charges would form part of the investigation but called for patience, stressing it was still "early days".
ATSB Chief Commissioner Angus Mitchell said the choppers had collided when one was taking off and the other was landing.
"From the footage that we've seen and from the damage that we can witness on there, it does appear that the main rotor blade of the helicopter taking off has collided with the front cockpit of the descending helicopter on the left-hand side," he said.
"Exactly whether that was the very first point of impact, we're yet to determine.
"But that in itself has led to the main rotor in the gearbox separating from the main helicopter which then had no lift and has fallen heavily to the ground."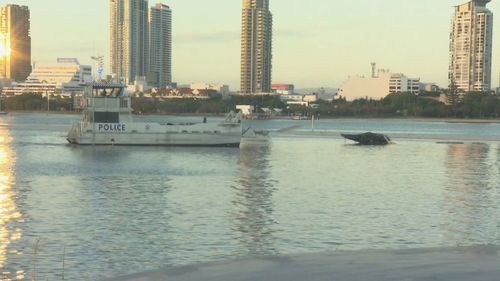 Mitchell said the crashed helicopter had only been in the air for 20 seconds before the collision.
He said the investigation to come would follow multiple avenues.
"What we do need to know now, is what was occurring inside the two cockpits at the time," he said.
"We do have multiple accounts from witnesses and a video.
"But equally, we'll get what we can from the two helicopters to try to get a better picture of what was occurring."
The ATSB will also look at what safety procedures were in place to protect helicopters in such a situation.
"So we'll anticipate certainly looking at multiple lines of inquiry here around the procedures that were in place, and potentially what has helped contribute to such a tragic outcome that we're standing here today," he said.
A key part of the investigation will be centred on the wreckage of the helicopters, but Mitchell said the ATSB would also interview witnesses, including survivors.
"We now have a painstaking job of trying to recreate exactly what's occurred in the lead-up to this tragic start to the new year," he said.
"We do have multiple accounts from witnesses and from cameras on buildings.
"What we'll need now is to try to piece together any recording devices, and that can be those that were fixed on the aircraft, and we know there was a number of them there."
Distraction a potential factor
A former Qantas pilot and aviation expert says distraction is one many factors that could have played a part in a chopper crash near Sea World on the
Gold Coast
which killed four people and left three people fighting for life.
Vision shows the accident happened when one of the helicopters was coming in to land and the other was taking off.
Richard de Crespigny, who has 45 years of flying experience, including 1000 hours of helicopter piloting, told Today there could have been many reasons why the pilots did not see each other before they collided.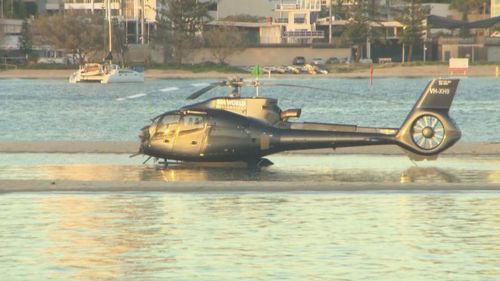 "If you look at that video (of the crash) you can see the aircraft above the horizon, that looks fairly easy to see, if there are no distractions," de Crespigny said.
"But are there distractions?
"Is a passenger saying something? Is the aircraft misbehaving?
"Is something drawing the pilot's view inside and he can't look outside?"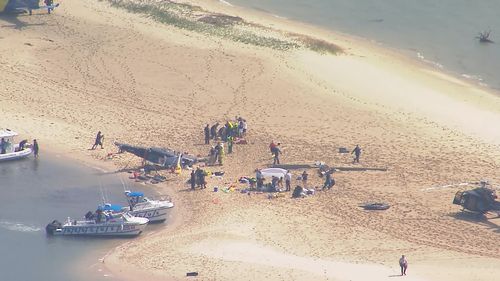 Approaching aircraft could also play visual tricks on a pilot's eyes, de Crespigny said.
"An aircraft … will start as being a dot on the windscreen and it then gets bigger and bigger in the same position, until it hits you," he said.
"The eye is not designed to see objects that are still, especially if the aircraft has got a painted skin that makes it sort of camouflaged.
"Were there distractions? Were the aircraft camouflaged in the airspace below? All these questions are still to be answered."
Aviation authorities were helping pilots install equipment used to transmit position and altitude to big commercial aircraft, de Crespigny said.
However, choppers flying close to the ground relied on pilots seeing and avoiding other aircraft, he added.
De Crespigny praised the efforts of one of the pilots who managed to land their chopper on the ground after the collision.
Of the six in the helicopter which landed, five were taken with minor injuries to Gold Coast University Hospital and one person was physically uninjured.
"I think the pilot who landed that aircraft after that mid-air collision did an excellent job of landing on a hard surface safely and everyone got out. 
"I think that looks like excellent piloting."